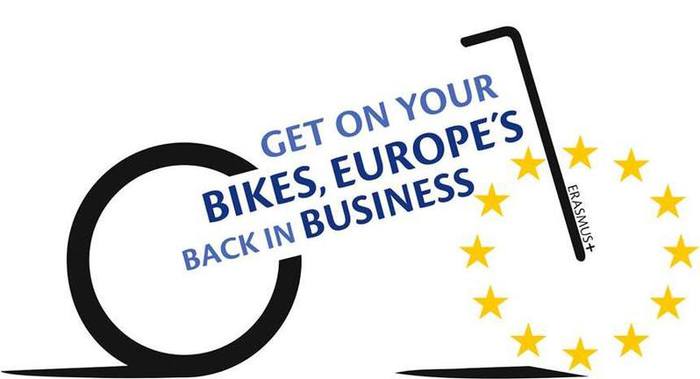 "Get On Your Bikes, Europe's Back In Business!" was a strategic collaborative partnership that emerged from the need to provide our students with the necessary skills meant to help them cope with the current difficult economic situation in Europe. Therefore, the project aims to develop students' entrepreneurial competences through a sustainable way of living, particularly when it comes to our environment, as well as by generating a sense of responsibility for one's health. In order to achieve these, the simple activity of cycling was at the heart of all project activities. Cycling combined with the idea of sustainable tourism enterprise is surely an innovative issue to work on so as to implement consciousness on a positive lifestyle, to upraise and foster entrepreneurial mind-sets and skills and to encourage active citizenship and new social enterprise creation.
The participants at the project were a number of about 250 students, aged 14-18, from eight schools across Europe, from countries that have experienced the negative effects of the difficult economic situation: Romania, Poland, Italy, Croatia, Germany, Latvia, Slovenia, Czech Republic. Seven of the partner schools are vocational, they train students in tourism (Romanian and Italian schools), electronics (Polish school), health, building trades and agriculture (Croatian school), business administration and ICT (German school) and economic subjects (Latvian and Slovenian schools); the eighth institution, from Czech Republic, is specialized in general education with focus on IT, Geography and sports.
The methodology of the partnership was "hands-on", meaning that, in order to face the economic crisis, our students had to create products for the market by themselves, such as PR campaigns to promote cycling or potential accessories to support bikers. Furthermore, they set up an interactive website for cyclists that will attract young people and travellers. These products led to a student-managed virtual practice company whose object was to arrange adventure cycling trips (taking place off-road) in different European countries.
There were three results the project proposed to realize: "Get on your bikes" toolkit, "Get on the trail" website and "Back in business" methodological guide. All these results promote cycling in different ways: the toolkit offers practical solutions about how to overcome obstacles that inhibit the uptake of cycling (possible PR methods for cycling, cycling schemes to be implemented in local communities, new bike accessories, dealing with technical bike problems); the website provides cyclists with information about bike-trails in 8 sample localities, referring to points of interest, maps, accommodation places; finally, the methodological guidebook includes detailed guidelines about how to set up a business in the field of sustainable tourism and also contains the tested good practice example of a multinational company specialized in off-road bike trips. The most important aspect about the three results is the fact that they are interconnected, each of them supporting the others.
By working at the preparation of the project results, students learnt various subjects in an activity-oriented and project-oriented way. Thus, the subjects became more realistic (real life-based) to students as they would appear in a solely classroom-based education. Among these subjects, there were activities like carrying out market researches and surveys, presentations of results, designing marketing strategies and promotion campaigns, shooting and editing videos, creating user-friendly screen design (mock-ups) for websites, building a website, organizing adventure cycling events, repairing bikes, setting up a business, making a financial plan, creating strategies to sell cycling trips, learning how to ensure a sustainable environment and a healthy way of living etc.
Through the project activities, our students developed specific interests in one or more fields (technical, economic, touristic, healthcare, sport/cycling), they made new friends in participating countries and lost inhibitions relating to speaking a foreign language, they broadened their horizons and changed their perspective on different topics, gaining some new prospects for their individual future at the same time.
Last but not least, there are longer term benefits for the participating institutions in terms of gains generated by planning and developing cross-curricular local activities, implemented within and beyond the project duration. The collaboration with local authorities and local touristic businesses was greatly enhanced through the project activities because local riches were also presented as potential places to visit in Europe. Besides these, we strengthened the cooperation between schools and local/regional cycling or sports club having in view the creation of new activities.